About: Tunnel Rush
What is Tunnel Rush?
Tunnel Rush is a speed game, where players will overcome challenging rounds by moving through the function keys to avoid obstacles encountered along the tunnel and achieve the longest distance possible. This game has a simple gameplay but extremely stimulating because the extremely fast running speed makes you more excited.
Tunnel Rush is a highly relaxing entertainment game for all ages, designed according to a high-end 3D model from the British studio Deer Cat Games. That helps to bring diverse experiences with attractive vivid colors to users with magnificent graphics and top-notch sound. You will have to go through zigzag tunnels and obstacles that appear suddenly like a colorful maze that makes you unable to be bored for a moment. Tunnel Rush is a test of your ingenuity and reaction speed. You can choose between single-player mode to enjoy a 3D single-player experience, or dual-player mode that lets you race against another person and the winner is the last survivor. Let's play Tunnel Rush to see where your limit is!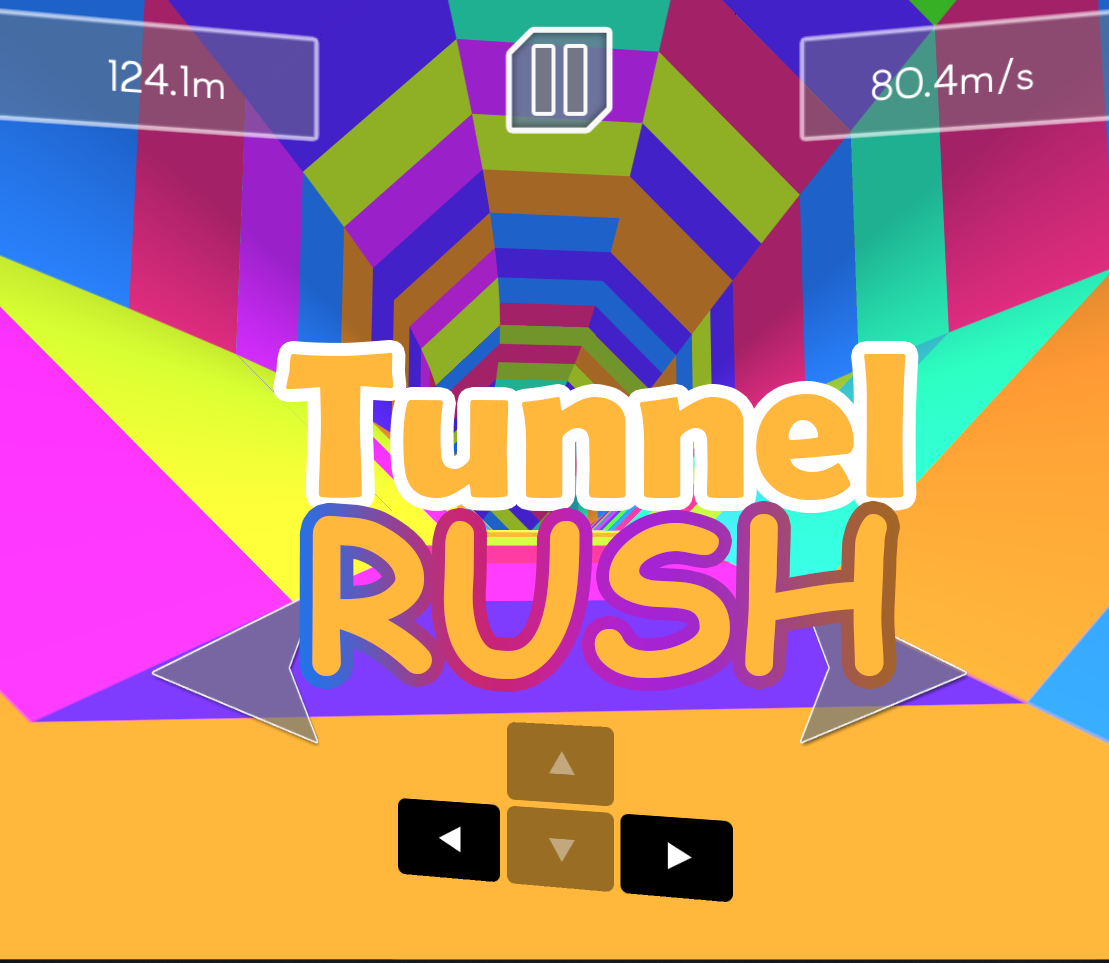 How to Play Tunnel Rush?
In Tunnel Rush, the tunnel will continuously roll forward and you need to use the left and right arrows or the A, D keys to move left and right to avoid moving objects or to turn direction to go. Get to the last point and win. Press the space bar on the keyboard to start or pause or restart the game.
Game Modes
Classic Mode

: In this mode, players will explore the levels alone, from easy to difficult to gradually improve your ability to reflect attention. Higher levels will contain more obstacles and dangers, the difficulty will gradually increase without making you too overwhelmed when you first play.

2 Player Mode

: lets you join your friends in 2 player mode and do your best to win the challenge. The winner is the survivor left in the tunnel. In this game mode, will stimulate your aggression and forge your competitive fighting ability. The first player can use the left and right arrow keys while the other player can play with the A and D keys.
Gameplay Tips and Tricks
Tunnel Rush has a simple gameplay that involves speeding through the tunnels while dodging the obstacles along the way and the special thing is that it looks fast, but you always have enough time to dodge each obstacle. obstacle or danger. Here are some ways to help you have a better experience when playing Tunnel Rush:
Calmly observe and monitor hazards so that they can be dodged in a timely and intelligent manner.

Tunnel Rush

is very fast so always prepare to move early.

Complete the initial level smoothly to explore more challenging levels more easily.

Stay focused and invincible to win exciting challenges.
Tunnel Rush Features
High resolution graphics with vivid colorful endless tunnels and caves for a realistic feel.

Hundreds of challenging levels from easy to difficult to conquer.

Super fast, smooth download speed without stuttering, causing users to be interrupted during the game.

There are 3 difficulty levels to choose from suitable for many types of players: Easy, Medium, Hard.

There are 2 basic game modes, Classic Mode and 2 Player Mode.

Simple and intuitive, user-centered 3D interface.

Pleasant, enticing music effects.

A realistic tunnel view of a running person.
Tunnel Rush is one of the best relaxing games to relieve the stress of life that is being preferred by many people around the world. Try the feeling of going on an action-packed adventure after a hard day's work? Trust me, it was a great experience! Tunnel Rush will be the place that connects you to your satisfaction and your friends around! If you are interested in this type of game, you can also try other similar games, such as:
Discuss for Tunnel Rush